Langham
Langham is a village and civil parish in Rutland in the East Midlands of England. The village is about 2 miles north-west of Oakham, on the A606 main road linking Oakham and Melton Mowbray. The Parish extends to about 3.4 miles west to east and 2.3 miles north to south, with the residential part in a compact rectangular shape. A population of some 1100 people, and has a welcome mixture of the descendants of long established Langham families together with many newcomers who have moved in mostly over the last 30 years or so. The population covers a wide age range with many retired people, but also households with young families. To serve them there is a Primary School, which has around 170 pupils, including children from surrounding villages. Altogether a lively village, with sociable people who are supportive of each other.
It has two pubs, the Wheatsheaf and the Noel Arms, and a Church of England primary school. Langham Lodge is a Grade II listed house on the edge of the village. The Church of England parish church of Saints Peter and Paul dates in part from the late 13th century and is a Grade I listed building. There is also a Baptist Chapel, built in 1854.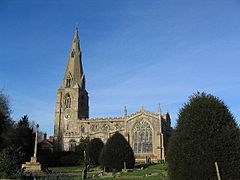 Notable inhabitants include Simon Langham, a 14th-century monk who became Archbishop of Canterbury.
Ruddles Brewery was based in Langham from its foundation in 1858 until it was closed in 1997. The water from the local well was said to give the beer a unique character and quality, which enhanced the brewery's reputation. The site of the brewery has now been demolished and replaced by a housing development.