Oakham
Oakham is the county town of Rutland in the East Midlands of England. 28 miles south-east of Nottingham, 25 miles east of Leicester and 23 miles west of Peterborough. Oakham has a population of 9,975.
Oakham lies to the west of Rutland Water, one of the largest man-made lakes in Europe. It is in the Vale of Catmose and is built on an incline, varying from 99m to 122m above sea level. It is twinned with Barmstedt, Germany, and Dodgeville, Wisconsin, U.S.A.
Tourist attractions in Oakham include All Saints Church and Oakham Castle. Another popular and historic feature is the open-air market held in the town's market square every Wednesday and Saturday (near the ancient octagonal Buttercross with its pyramidal roof and wooden stocks, a grade I listed building).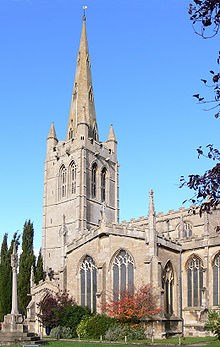 All Saints' Church
The impressive spire of Oakham parish church, built during the 14th century, dominates distant views of the town for several miles in all directions. Restored in 1857 to 1858 by Sir George Gilbert Scott, the church is a grade I listed building.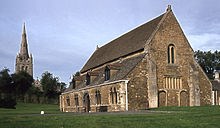 Oakham Castle
Only the great hall of the Norman castle is still standing, and is surrounded by steep earthworks marking the inner bailey. The hall dates from c. 1180—90 and according to Nikolaus Pevsner (in his The Buildings of England: Leicestershire and Rutland):
"It is the earliest hall of any English castle surviving so completely, and it is doubly interesting in that it belonged not to a castle strictly speaking, but rather to a fortified manor house."
The building is attractively ornamented with Romanesque architectural details, including six carvings of musicians. It is a grade I listed building.
The hall was in use as an Assize court until 1970 and is still occasionally used as a Coroner's court or Crown Court. It is also licensed for weddings.
The outer bailey of the castle, still surrounded by low earthworks, lies to the north of the castle. Known as Cutts Close, it is now a park with a bandstand, skateboard area, flowerbeds and children's play area. Some deep hollows in the park are the remnants of the castle's dried-up stew ponds (fishponds).
A Castle class corvette named HMS Oakham Castle was launched in July 1944.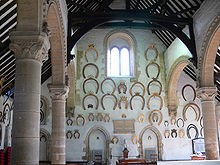 Ceremonial horseshoes in Oakham Castle
Traditionally, members of royalty and peers of the realm who visited or passed through the town had to pay a forfeit in the form of a horseshoe. This unique custom has been enforced for over 500 years, but nowadays it only happens on special occasions (such as Royal visits), when an outsize ceremonial horseshoe, specially made and decorated, is hung in the great hall of the castle. There are now over 200 of these commemorative shoes on its walls. Not all are dated and some of the earliest (which would doubtless have been ordinary horseshoes given without ceremony by exasperated noblemen) may not have survived. The earliest datable one is an outsize example commemorating a visit by King Edward IV in about 1470. The horseshoes hang upside-down: while this is generally held to be unlucky, in Rutland this was thought to stop the Devil from sitting in the hollow. The upside-down horseshoe motif appears in the county council's arms and on the local Ruddles beer labels. Recent horseshoes commemorate visits by HRH The Princess Royal (1999), HRH The Prince of Wales (2003) and HRH Princess Alexandra, The Hon Lady Ogilvy (2005).